Our Beautiful Boys
Our Stud Dogs
Aust Ch Tilcha Thorpedo
sire: Aust Ch Teejay Wizard of Oz (Imp UK)
dam: Aust Ch Jonquilow Olympic Gold
(Löwchen)
Thorpie is a proven stud, producing Aust Ch Tilcha Loves A Parti (Ike), Aust Ch Tilcha Just Rave On and Aust Ch Tilcha Glory N Torino (Glory) and Aust Ch Rondaglen Won For The Road (Guiness) from limited studs. His offspring both in Victoria and Tasmania are breeding on. Thorpie is a combination of the best English lines - having both Teejay and Bigglesmere dogs behind him. He is a very typey Lowchen, Black and Silver in colour. He has a typical Löwchen temperament - gay and fun loving - and this has shown itself in his offspring.
Aust Ch Rondaglen Lion Tamer
Sire: Aust Ch Bigglesmere Just 'N Fashion (Imp UK)
Dam: Aust Ch Rondaglen Mary Poppins
(Löwchen)
Simba is a typey boy with all the attributes of a Löwchen including a cheeky, happy temperament. He combines the best English lines with the best Australian lines, being closely bred to our original dog Ch Lyoncourt Lancelot, the sire of both Ch Rondaglen Sir Galahad and Ch Paceaway Gremlin. Simba attained the title of Aust Ch with a Best Exhibit In Group win under Canadian judge Mrs D Heck over an entry of 217 in Group 1. Other achievements include Reserve CC at Royal Adelaide Show, beating a big winning Grand Champion along the way. Simba is now standing at stud to approved bitches.
Aust Ch Rondaglen Jazz Singer
Sire: Aust Gr Ch Tilcha Just Show Stopper
Dam: Aust Ch Paceaway Satine
Jazz has recently returned to us in Bunyip after a successful show career in Tasmania. He is a beautifully balanced dog with a most pleasing expression, correct coat texture and stands at 11 1/2" at the withers. He offers impeccable lines combining as he does top UK and Australian breeding. Jazz is available at limited stud to approved bitches.
Rondaglen Star Performer
born 19th January 2011
Whyzzie is from our first litter from Ch Bigglesmere's Ringo Star (Imp UK) from our Ch Rondaglen Fire Dancer (Flame). He is a typey boy, standing 12 inches at the withers and has a beautiful, silky, black coat with white markings. He will be available at limited stud in the New Year.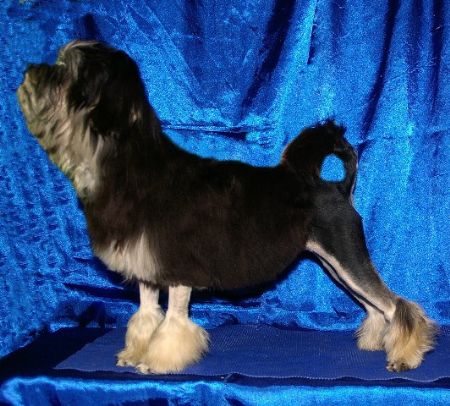 Aust Ch Rondaglen Lion Tamer
"Simba"
View More Details